Verizon Wireless EVDO Internet Review
I recently signed up for Verizon Wireless EVDO High Speed Internet. The service was referred to by Verizon as: BROADBANDACCESS PROMO UNLIMITED and is $59.99/month with a two year contract. The wireless EVDO service from Verizon that I signed up for is a data only service which I use to connect to the internet through a card in my Mac Book Pro Laptop.
The Verizon Wireless Qualcom V640 Express Card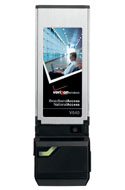 The V640 card is regularly $199 at Verizon Wireless but don't pay that much for it. The card is available at on-line retailers for $99 and I was able to get my local Verizon store to sell me the card for $99 a couple of months ago when I purchased it. I imagine this price will go down to promo/free soon.
The V640 is an Express Card which is another format of card other than the PCMICA cards which had been standard on most laptops. The Apple Mac Book and Mac Book Pro's all have the Express Card Slot only. The V640 was one of the first EVDO Express Cards that was produced and has been avilalble for a couple of months. In September when I got my card, only Verizon and Sprint had Express EVDO cards available. This card is plug and play for the Apple laptops and mine has worked flawlessly.
The V640 Express Card has a few nice features including a flip up antenna for a bit of a signal boost, an input for an external antenna, and a very handy flashing signal detector light. I have been happy with the reception of the card. Most of the time if I have cell phone coverage, I also have EVDO data coverage. The signal light of the V640 flashes green if you have coverage and red if no coverage so you know your coverage even before you try and connect.
VZAccess Connection Manager Software

My only complaint with Verizon's EVDO wireless high speed internet service would be the VZAccess software. The software is not terrible but it is not flawless either. The software is required to set up the service, this is disappointing. With previous wireless internet service, you could configure a modem manually and connect, but this is not possible with the EVDO service from Verizon … well not initially anyways.
The VZAccess software comes with the V640 card and installs easily, although requiring an annoying restart. The software starts on boot I assume because it complains if you boot your Mac with the card inserted that it must be started before you insert the card… again annoying. Once you start the software the first time, it auto configures and you can then connect…AFTER you register the card and service. This process is what stops you from manually configuring your modem and connecting. Once you have successfully activated connecting is as easy as pressing the connect button.
The software has a few handy features including a stat display which gives you your connection speed, current and historical, in text and graphical format. These are pretty useful especially to know whether you have the juice to try a huge download or if you should wait.
The major problem with this software is it has some dependability issues. I have a few times had it go into some kind of CPU eating condition where it takes all free processor cycles and runs up the heat on my Mac Book Pro.
Connection Speed
The service works by running in 1x Mode when EVDO is not available and the VZAccess display is a great way to keep track of your speeds. My speeds are usually around 96Kbps up and 1.2Mbps down when in 1X and 1.5Mbps up and 5Mbps down when in EVDO. I have seen it max out at around 8Mbps down. Any of the EVDO numbers are amazingly fast and the 1X numbers are annoying but fast enough to be very useful. I have been very happy with the speed of the service. Having unlimited data is a must, though, since I use this service pretty heavily at times. At a recent conference I attended, I used the service daily and with downloading Diggnation and GeekDrome at night, I pulled over 1G of data down one day 🙂
I have heard nasty rumors of that some people feeling they are being throttled when they use too much data. I have not found this to be true but are keeping my eye out for these kind of tactics because they are a possibility, I am sure.
Manual Modem Connection
So, I don't think you can completely bypass the VZAccess software because of the activation functionality it performs but once you have activated your card it is very easy to go manual and bypass the VZAcess software. First, Open Internet Connect and select the Novatel Wireless EXPD CDMA modem from the selection bar at the top. Click the "Show modem status in menu bar" check box. This is a good selection to have anyways because it gives you your connection information. Now when you want to connect, just click on the modem phone icon and select connect. This works because the VZAccess software is nice enough to set up the modem profile when you first connect.
Final Conclusions
I have been very happy with Verizon's EVDO high speed wireless data service. The service area and speed are excellent and as EVDO coverage is expanded this will just get better.
UPDATE

If you don't have an Express Card slot or want to have the ability to access Verizon EVDO from your desktop, Apple or Mac, check out the Novatel Wireless XUA-1 Express Card to USB Adapter. I reviewed it on my blog here.
3 Responses to "Verizon Wireless EVDO Internet Review"
Leave a Reply